About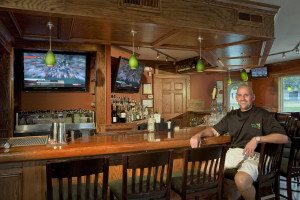 Rich Dobkin opened his Irish pub, Fibber McGee's, in Sunset Beach, NC.  Rich had been vacationing here for about eight years and couldn't find any smoke-free establishments to have a late night drink, so he decided to move here and open one.
The bar is clean, tasteful and affordable to retirees.  Most of the clientele are locals.  We have high quality food with a full menu, wonderful atmosphere, a great location with live music an the weekends.  You can meet for a drink, watch sports and feel comfortable, "like being at home", and it's open year-round.
Located on Queen Anne Street in the Dock Street Community, just 1.5 miles from the Intra coastal Water-way.  Fibber McGee's is open 6 days a week and offer a menu consisting of panini's, wraps, sandwiches, salads, as well as daily specials.  Fibber's also offers a fully stocked bar as well as a wide variety of domestic and imported beers.